Apartheid South Africa
I grew up in Cape Town, South Africa in the 1970's.  My view of the world was skewed by the pariah status of apartheid South Africa among the nations of the world. I had a preferred status.  I am sure that if it weren't for the fact the color of my skin was white, I would have been discriminated against because I was from a Jewish family.  I attended an all-white, boys only public high school called Sea Point Boys' High School. Most days, I would walk the mile to school along Main Road with its many shops, and sometime along Beach Road, with a clear view Lions Head on my right. On my left was the Atlantic Ocean with wide expanse of Table Bay and Robben Island a few miles off shore.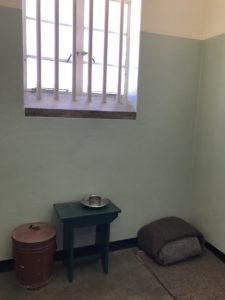 During those days few people talked about Robben Island and what was happening there. We all know it was a prison where Nelson Mandela was held captive as a political prisoner and was led to believe, through fear and intimidation by the government, that it was the destination for anyone who dared to speak out. Most days, particularly during school holidays, I would join friends at the beach to sun bathe and enjoy the social scene during the long hot summers. Only during the peak of summer would I venture into the cold water to cool off. At sunset, I would walk down to Queens Beach or Saunders Rocks to collect sea urchins and watch the sunset – always aware of the ominous presence of Robben Island that sometimes appeared like a mirage shimmering on the blue horizon.
Little did I know at that time, that 40 years later my view of Robben Island would take on a whole new significance.
Exchange Student to the USA
I left South Africa to pursue the American dream as a wide eyed eighteen-year-old. Arriving first as a Rotary exchange student, then the continuing as a college and graduate school student, before working and applying for my green card. In 1993, I became naturalized citizen of the USA.
During an extended visit to Cape Town with my wife Jeanie in 2017, we climbed Lions Head and at the top looking out towards Robben Island, I recounted my memories growing up in Sea Point. We marveled at the recent history of South Africa. How Nelson Mandela who after spending eighteen years on Robben Island and thirty-six years in total as a political prisoner, had been freed to lead South Africa to new beginning with the promise of a multi-cultural multi-racial society based on freedom and respect.
Freedom Swim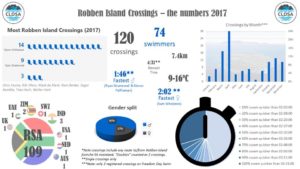 I had heard about the hardy South African swimmers that had been making the crossing from Robben Island to the mainland, some for many years. Despite not being a swimmer, it was there and then that I decided to take on the challenge of attempting the crossing. I got the personal significance. I heard about the Freedom Swim.  But as I started to think about the swim in practical terms, little did I know what was in store for me.