A few months ago, Remedy Health Media, an organization that helps patients share their story about health and life so that viewers can benefit from their experiences, heard about me through the National Psoriasis Foundation (NPF).
The NPF is the beneficiary of 100% of my fund raising efforts for my Robben Island to Cape Town swim in March 2019.
After a phone conversation or two with Jens Bishop and coordinated by his very capable Production Manager, Alex Portaluppi, they liked my story enough to offer to schedule a date to interview me in person.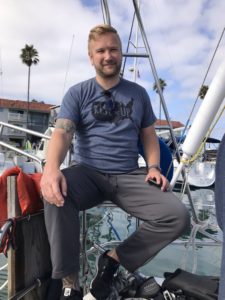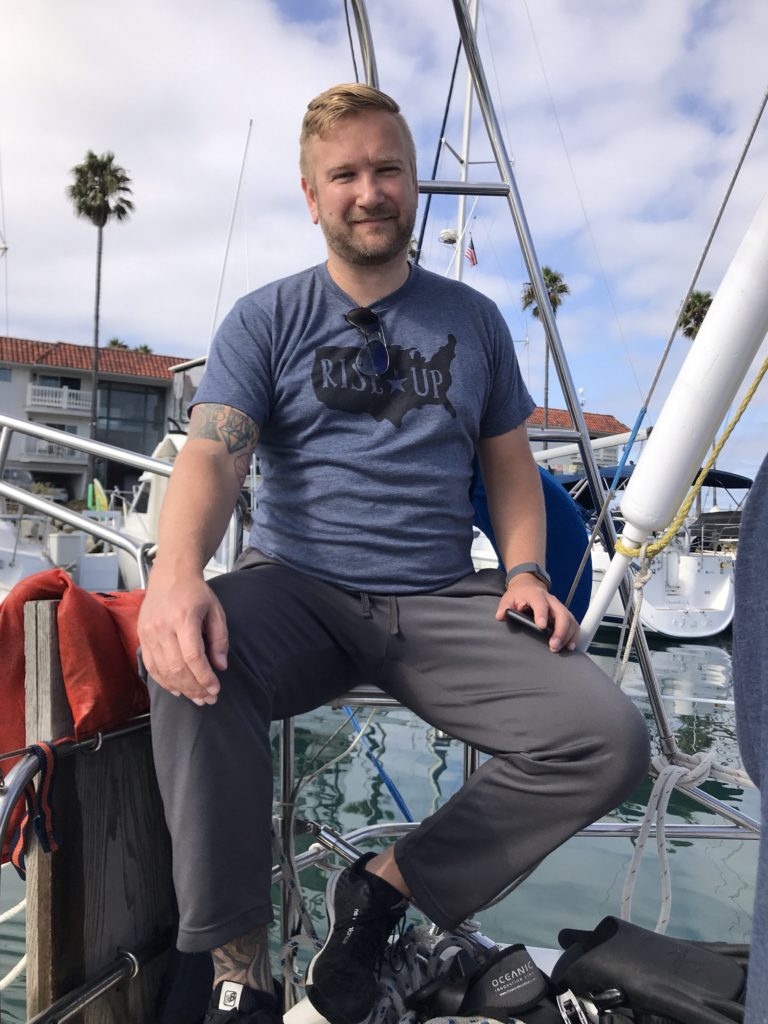 I was impressed that the organization would spend the money to send a film crew all the way out from the east coast to meet me and talk to me in San Diego.
I only had a general idea what to expect because I had not received a production schedule, but only knew what we had discussed by phone. Alex made all the reservations and arrangements.
Friday September 28th
As arranged, Jens arrived at my home at about 6:45pm. He was with photographer Tom Van Veen. Jeanie and I welcomed them into our home. We chatted a while before I showed them around our home for possible area they could use for the interview.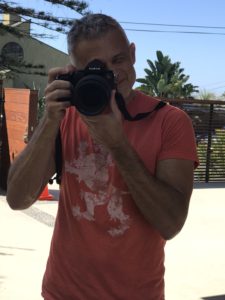 Later, we met for dinner at Ki's Restaurant in Cardiff. During dinner Jens and Tom shared the Production Schedule. Before we knew it dinner was over. Our far ranging conversation made the time pass quickly.
Rather that provide a list of what the production schedule listed, I am describing here what actually happened over the weekend. Which was truly a weekend to remember.
5:45am: Saturday September 29th
I arrived a few minutes before the crew at our pre-dawn designated meeting place – the Oceanside Yacht Club.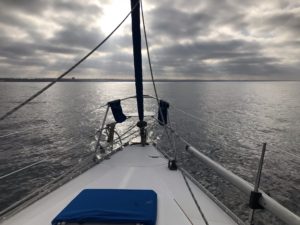 Jens and Tom arrived in their rented SUV with the two other crew members – brother Brian and Pat Canavan. They unpacked their significant amount of gear, that included multiple cameras and an assortment of video equipment.
Master Captain Mike greeted us as we followed him to the marina, with Pat and Brian guiding a dolly piled high with the equipment.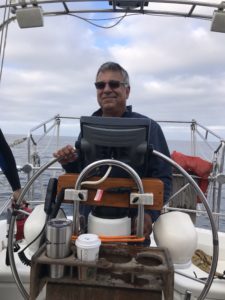 It was dark. First light was barely visible.
We walked down the dock where dozens of yachts were moored, until we arrived as a beautiful sailing yacht which we boarded.
After the Captains safety instruction we were soon off, making our way at first slowly out the harbor, then faster as we reached open ocean.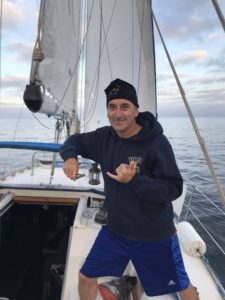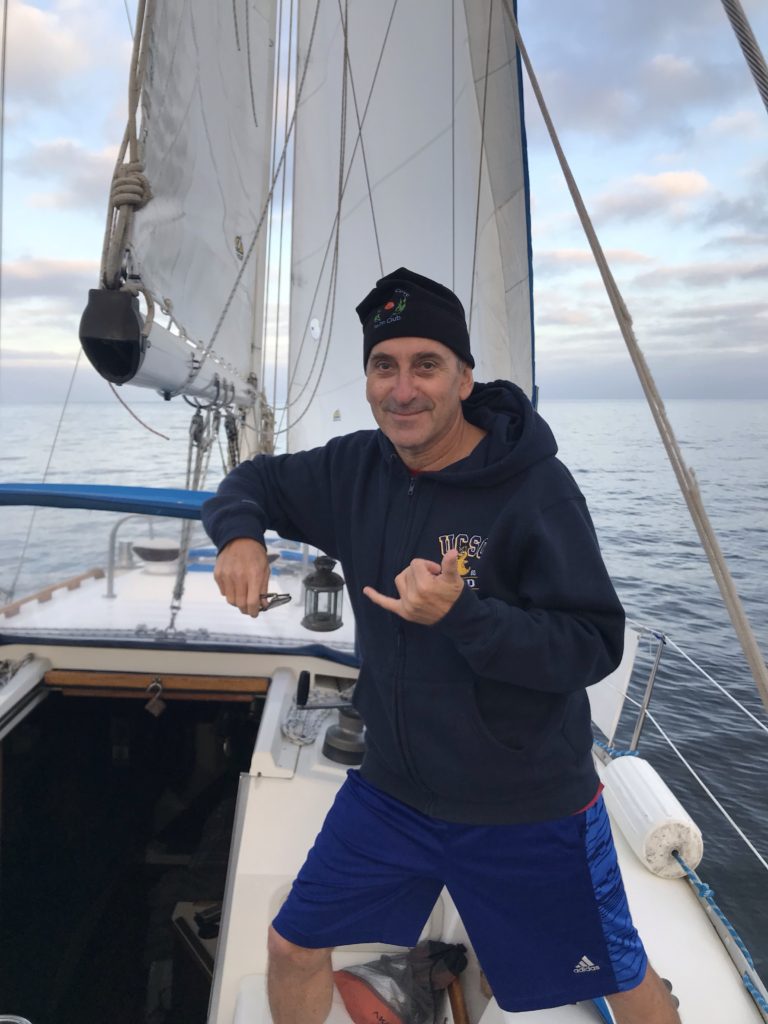 As the morning light began to cut its way through the low clouds, Jens and Tom guided me to various standing and seated positions so they could take photographs of me.
About half and hour later, we were about 2 miles offshore from Camp Pendleton. Brian and Pat were getting their gear ready and putting on their wetsuits.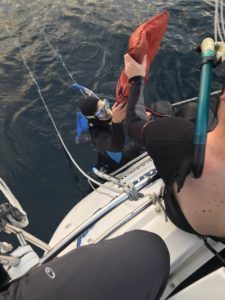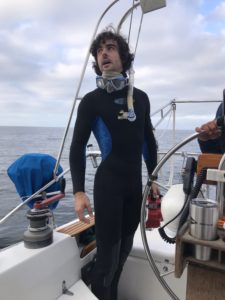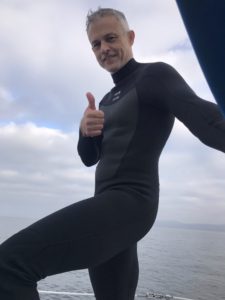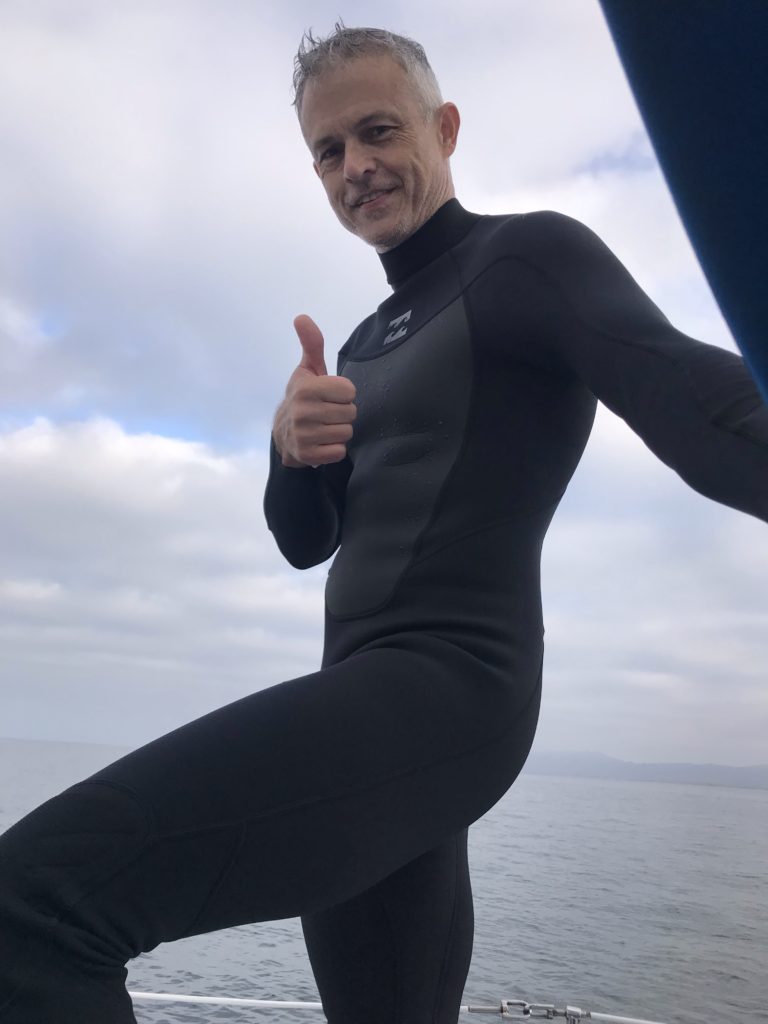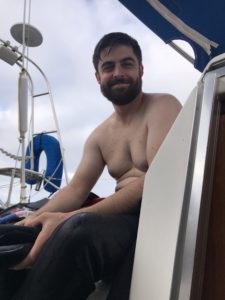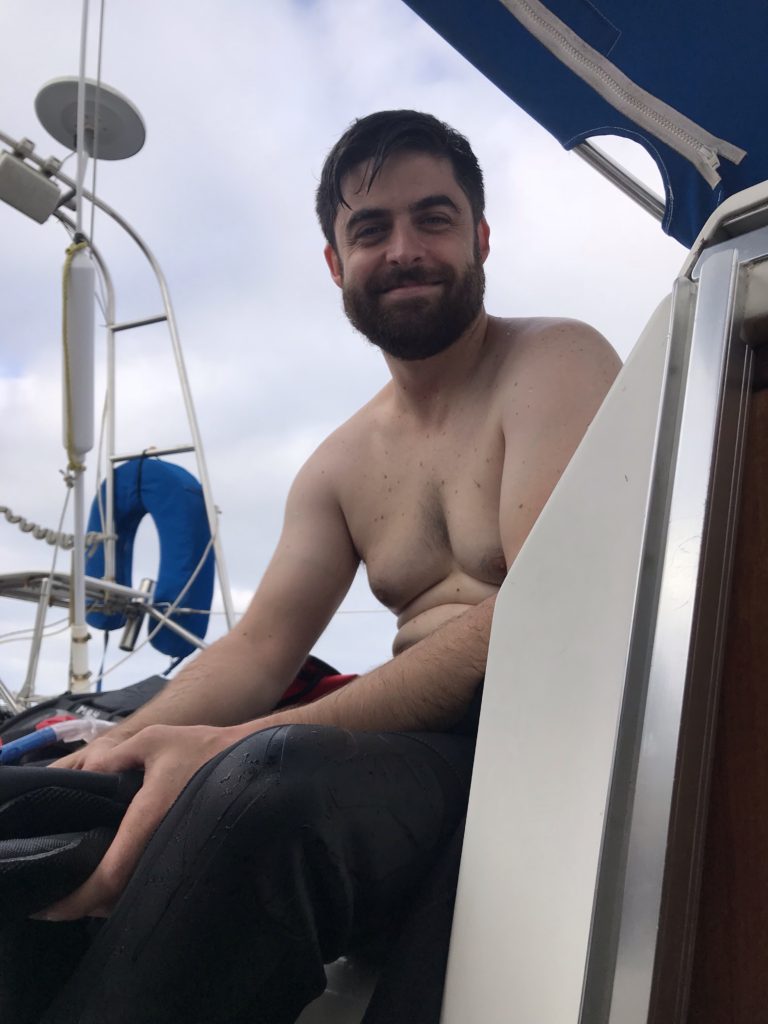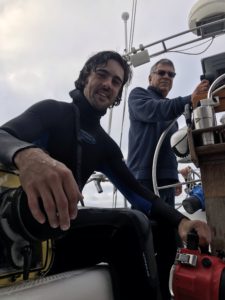 Soon, we were in the water, where I was instructed to swim past their video camera. Back and forth I would swim, until they were satisfied.
Then Jens and Tom got in the water with their still camera to take more photos of me swimming.
During a short break, I climbed back onboard and dried myself off and began to relax. But soon I was asked to get back in the water. Jens saw that the beauty of the morning light shimmering in the ocean water would make for possible a good photograph.
Soon we were sailing back to the safety of the harbor. It was a beautiful morning. Despite a bout of sea sickness to a couple of the crew members, everyone enjoyed themselves. It was a pleasure for me because all the guys were very easy to get along with and had interesting stories of their own. It was clear that they were all professionals and I was looking forward to the rest of the weekend.
Man in Grey Suit  Makes an Appearance
We later found out that while we were swimming off Oceanside, a young high school age boy was diving near Encinitas. He was diving for lobsters. Sadly a shark probably mistook him for a seal.  He survived and is in hospital. My thoughts and prayers are with him,  As a result, Lifeguards closed beaches as a precautionary measure for 48 hours, including Swami's, my home beach.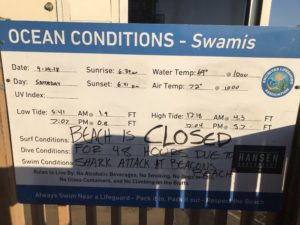 1:00pm or 1300: Saturday September 29th
The guys arrived at our home and parked the SUV in front of our home. They began to bring in equipment and created a set between the living and dining rooms to interview me. I leaned that set up takes time. I was patiently waited.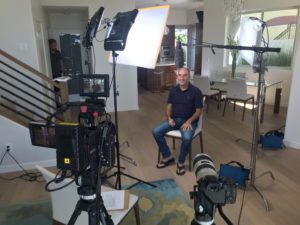 Soon enough Jens, who had been preparing questions for me in his notebook, sat me in front of the lights and cameras. I wasn't nervous at all. The way I looked at it, it was my opportunity to tell my story with the hope that it would be helpful and make a difference in someone's life.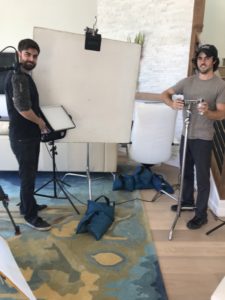 5:00pm or 1700: Saturday September 29th
After the interview, the crew packed most of the gear back into their SUV and met Jeanie and me at Swamis Beach. Tom followed Jeanie and me as we walked under the railroad underpass occasionally instructing us what to do. He was the consummate professional with a creative vision of the environment and his subjects and how to make the photos interesting and compelling.
Soon we were on the beach. At first they had us walk along the waters edge together. Then they had me walking alone. The quality of the light from the setting sun was glowing and golden. Very beautiful.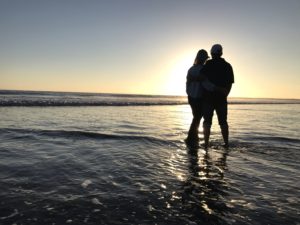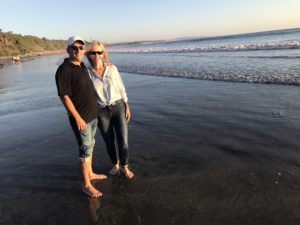 It was a little bit of fantasy having a crew of follow Jeanie and me around as we smiled, held hands and looked longingly into each other's eyes – all the while laughing just a little bit at the situation. It was fun, but soon it was over.
6:15am: Sunday September 30th
We met at La Jolla Cove. The guys arrived a minute or so before me. Brian was standing guard over their equipment on the sidewalk.
We are there for the La Jolla Cove 10 mile relay swim. I had put a team of 5 swimmers together (including myself) to swim 2 miles each as part of the relay. I called the team the "Freedom Swimmers".
We gathered together and positioned ourselves before the relay at the point overlooking the Cove and towards Scripps Pier. Tom was taking photos and Brian taking videos. Soon it was 7am and the start of the race.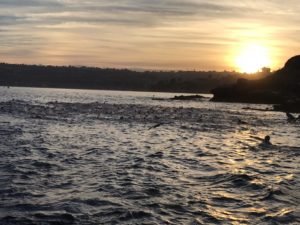 Steve Royce we first up as the event got under way with the first swimmers in the water as the sun began to appear over Mount Soledad. Charles Williams was also in the water swimming. Then it was Jonathan Leuchs and Stephan Lloyd and soon it was my turn.
It was organized chaos as swimmers left the sandy beach and entered the water.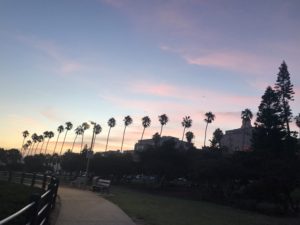 The hand offs between swimmers was sometimes a high five or some other creative tag to hand off on the replay.
As the team captain I was given a bag of goodies that included a long sleeve t-shirt for each of the team members along with other sundry items. I was happy to distribute them.
I bought commemorative 10 mile relay hats for the crew members which I gave to them as a reminder of the weekend.
Soon the sun was getting higher in the sky and we were once again packing our stuffs and heading home at the end of the competition.
4:00pm or 1600: Sunday September 30th
The final photo and video shoot of the weekend took place with the sunset as the backdrop on the top deck of my home.
I had invited Richie Strell and Jeff Snell to play a few songs with me. We had rehearsed a few days prior so we felt somewhat confident.
After a pizza dinner and sitting outside in front of our home enjoying the warm sun, we all headed up to the top deck. It was a magnificent sunset and we began playing.
I used my PA system to amplify Richie's harmonica and Jeff's guitar, as well as my guitar and vocals. Time passed quickly – too quickly because we were all enjoying ourselves so much.
After the sunset, we moved our equipment and instruments downstairs.
Then we said farewell to our new friends that Jeanie and I enjoyed getting two know over the prior 48 hours.
What a pleasure it was to enjoy swimming, music and sharing my story with such talented professional photographers, videographers and sound engineers.
The after glow lasted another day or two, as we shared texts and photos and memories of the weekend.
Remedy Health Media will be putting together a presentation of the interview and from the photo shoots, that will be placed on their website. I look forward to sharing it in a later blog posting.
FreedomSwim -an NPF Fundraiser
Thank you to Jens and Remedy Health Media for the stipend that they contribute to NPF for my swim.
As of today, I have raised over $2,100 and am now about 25% of the way to my goal of $9,000 – all to benefit the National Psoriasis Foundation and their mission to find a cure for psoriatic disease.
To support my swim please click on the Donate Button on the home page. One hundred per of your contribution goes to the NPF.
Thanks to:
Jens, Tom, Brian, Pat, Steve, Charles, Jonathan, Stephan, Richie, Jeff – and of course Jeanie for an amazing weekend to remember!!