Five Miles in Cold Water
To swim from Robben Island to the Mainland, it is either about 4 or 7 miles (depending if Bouberg Beach or Three Anchor Bay is the destination).
The water temperature in San Diego during the winter is about the same as the water temp in Cape Town during the summer months – in the upper 50's Fahrenheit.
Recently I felt ready to attend a 5-mile swim. Mike Redmon offered to accompany me on his kayak and fellow swimmer Emily Hammer said she would swim half the distance with me.
The intended route was to swim north from Sea Side Beach to Swami's and back.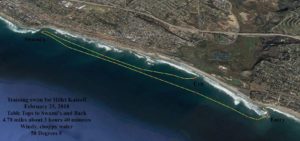 On Feb 25th we set out from Table Tops, about a quarter mile south of Sea Side, because the waves were too big to launch Mike's kayak.
The forecast was for the wind to pick up in the late morning as a storm was approaching. The first half of the swim was great – smooth conditions and light winds. On the way back, the winds began to kick in and the water became choppy. Based on Mike's estimation, I exited the water about a quarter mile short of 5 miles. Emily swam half the distance with me – from Table Tops to Swami's where she exited the water.
Moderate Hypothermia
After helping Mike get his kayak on the his truck, I realized that the sounds are sights I was experiencing was not normal.  I have experienced shaking and white fingers after swimming with the SD Tri Club for a about a mile at a time, but this time it was different.  Although I wanted to eat and drink something warm, I didn't feel like it. I felt nauseous and had to concentrate on what Mike was saying in the car ride home. I couldn't respond quickly in conversation and felt that things had slowed down and my vision had to stay focused  on one thing at a time.  I wansn't processing things well and I knew it.  The strange thing is that I was not afraid.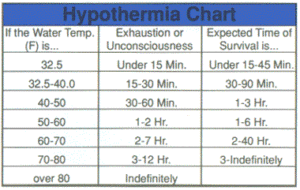 My core body temperature had dropped during the swim.   Jeanie knew that I had to warm up and standing is a hot shower was not good for me. She took me outside into the sun and sat me down in a wind free spot where I began to shake furiously and then stop suddenly.  I found myself staring at the concrete floor, which seemed to move while I had my eyes fixed on one thing. Then all of a sudden, after  about an hour, I stopped shaking, the color had returned to my fingers and I was back to normal.  I had just experienced the effects of moderate hypothermia.
All in all, a successful training swim in about 58-degree water for about 3 hours and 40 minutes. If I keep training I believe I may attempt the 6-mile Robben Island crossing to Three Anchor bay.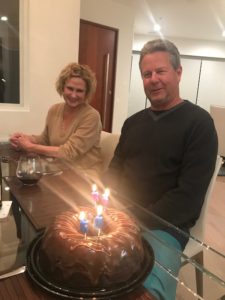 A few days later Jeanie and I celebrated the my 59th birthday and the successful swim with Mike and Emily. Joining us were Steve Royce and his wife Karen.  Steve is an accomplished open water swimmer and very supportive of my Robben Island swim.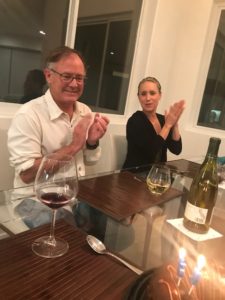 March 5th, 2018 marked one year to go for my Robben Island swim attempt.
Big thanks to Mike and Emily for their help and support.
Andiamo!