January 1, 2019
Sunset over South Africa – Arriving in Cape Town

Jeanie and Lily on plane
After an exhausting 24 hours of travel time (LA – Amsterdam – Cape Town), I finally make it to Cape Town. My luggage somehow arrived a day later. Despite the mishap, it didn't take too long to adjust to Cape Town. The excitement of swimming in the summertime is motivation for me. The days here are long, with hot sunny days turning slowly into warm summer nights. School holidays don't end until the 9th, so everything seems particularly busy, with lots of kids and families in walking around the Waterfront, Sea Point, Muizenberg, Cape Town and of course the beaches at Clifton. We made a stop at the Boulders, that is home to a large colony of African Penguins. Judging by the number of languages I have heard so far, there are also lots of tourists on vacation from European countries.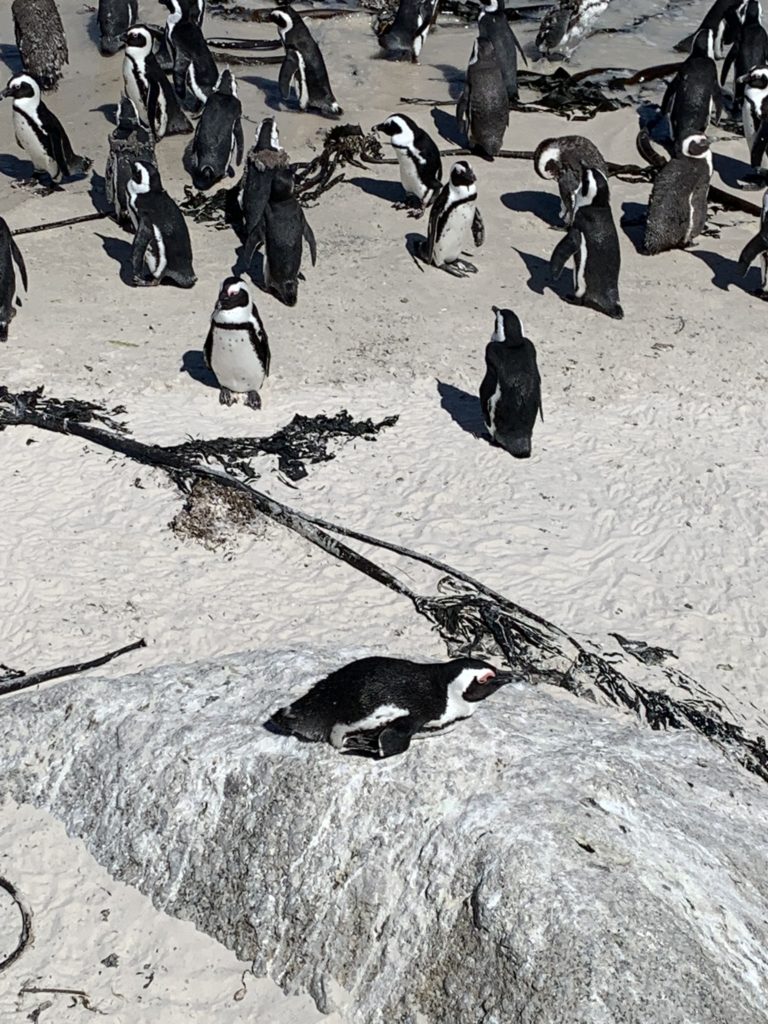 January 5, 2019
My first swim in the ocean was on Saturday afternoon. My adult children and I first met my niece and her boyfriend, then we gathered beach gear and found our way to 3rd Beach Clifton. (There are 4 beaches with each scalloped bay-like beach separated by rocks. Each beach has a distinct flavor, with Families frequenting 4th beach, teenagers on 3rd, and so on. Walking down what seemed like endless stairs, until finally reached the white sandy beach. They were going for the silent disco, I was going for the cold inviting water.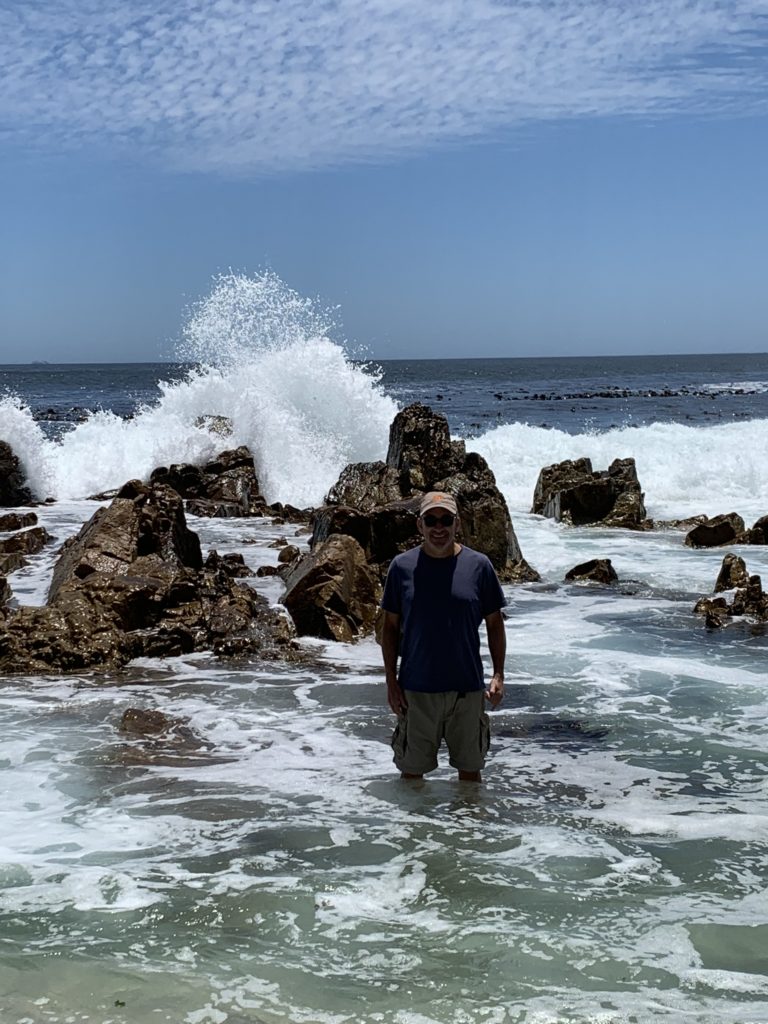 I walked over to 4th Beach, where I checked in with the lifeguards. It was late afternoon and was told by one of the guards that they were going off duty in about half an hour, at 6pm. The blue-green water was glinting in the bright afternoon sun still high up in the sky. It was hot and there were lots of people on the beach, but nobody in the water. Slowly I entered the water. First up to my waist for a few seconds, then up to my chest for another few seconds. I didn't know the exact temperature, but it felt like between 55- and 57-degrees Fahrenheit. Colder than I had been swimming in San Diego the previous week – in the dead of winter.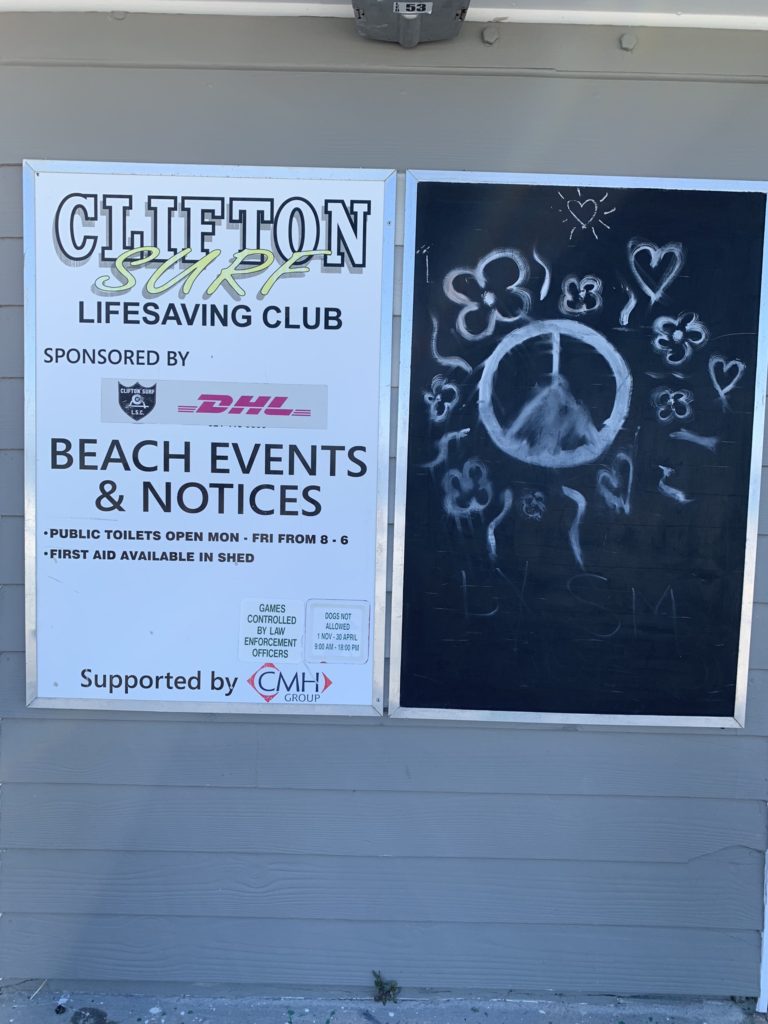 The cold from the water penetrating my skin and body. After a few gasps for air and getting used to the temperature, I started to feel more comfortable and began to enjoy the scenery. Soon I was swimming Clifton 4th Beach is shelters from the open ocean by some large boulders just off short. I swam towards 1st beach and then over to 3rd to try catch a glimpse of people dancing in silence with headphone on. You could see lots of people dancing but with no audible music in the air. It was a beautiful scene – Lions Head looming large and a bright blue sky up above with an occasional cloud that seemed to hang around in the sky – also enjoying the summer's day at Clifton.
I swam for about 30 minutes. Getting out, I didn't feel too much of chill because there was no wind and the late afternoon sun was warming.

January 6, 2019

My first organized swim was on Sunday. I found out about 3SOMS = 3rd Sunday Of Month Swim by searching online. During the summer months, the organizers also host 1SOMS – that is first Sunday of the Month Swim. I arrived at 4th Beach Clifton at about 8am. After I paid my R200 ($14) registration fee, I signed a disclaimer. Then I was handed a swim cap and my hand was marked with my race number. There were about 50 swimmers. An equal number with and without wetsuits. Close to 9am we all gathered for race instructions: We had 60 minutes to swim as many laps around a marked 800-meter rectangular course. The organizer had people raise their hand if they thought they would swim, one, two, three or more laps. Despite what appeared to be calm conditions, it was rough near the second buoy where is was closer to the open ocean. I had just about completed 3 laps and was about to go for a fourth, when I asked a lifeguard on a nearby kayak how long it had been since the start of the race. He said he didn't know, but told me that most people had already gone in. I could feel that I was getting cold, so in finished my third lap. Coming in to the beach, I was told that my time was 48 minutes.
Registration for 3SOMS

50/50 skins/suits

My first organized swim in Cape Town – 3SOMS at Clifton 4th Beach
Despite it being a hot sunny morning with no wind, my body started to shake. My head felt a little foggy. It took me about an hour to feel myself again. Later I thought about why I had experienced mild/moderate hypothermia. On the previous day's swim, I had not felt cold. I thought it was due to the fact it was my first race, and, in my excitement, I forgot to eat breakfast. I only had a few sips of coffee an hour before race time. I won't make that mistake again.
I know that if I want to swim the longer course from Robben Island to the mainland, I will be in the water for about three and a half hours. I need to get acclimatized to the cold water.
January 9, 2019
My goal was to climb Table Mountain today. Getting up at 5am, Jacob and I met my niece and her boyfriend at the lower cable car station. Despite no wind in Sea Point, there was large cloud called a table cloth cascading down the face of the mountain. Swirling cold winds would make the climbing conditions unpredictable and dangerous, so we decided to go for coffee and look at the conditions an hour later. Weather in Cape Town is very changeable. After another look, we decided to scrap the days climb and try again tomorrow.
Driving back to Sea Point, the weather was perfect and there were lots of swimmers at the 50-meter sea water pool called the Pavilion. The facility is located right next to the ocean and it is used by people training for open water swims including the Robben Island swim and other serious open water swims. It opened at 7am. All lanes were taken by 7:01. After the aborted climb, I arrived at 8am. By that time, there were lots of swimmers, bathers and others in the pool.

January 2nd at the Pavilion – It was near empty when the childre started the new school year a few days later.
Despite a crowded pool, I felt good and stayed focused my technique during my one-hour training swim. I thought of my friend Theo who used to swim at the Pavilion frequently. I wandered how many times he had swam over the black line I had been following at the bottom of the pool.

While drying off, I walked to the sea way and watched the ocean. The south Atlantic seems wilder than the Pacific. The salt content seems a little less than in San Diego. Off in the distance, about 6 miles from Sea Point lies Robben Island.