Swimming in the ocean can conjure up fears, including drowning and sharks.
Movies like Jaws (1975) and the media are partly responsible for stoking fears of sharks.   While I am very respectful of the ocean and pay attention to my limitations, I understand that there are risks. The ocean is the home to many creatures including sharks.
Yesterday, at Moonlight beach the Tri Swim group went out on its usual Wednesday morning swim.  Two of the swimmers saw a fin that did not look like a dolphin, so the swimmers exited the water.  While this happens, it happens very rarely.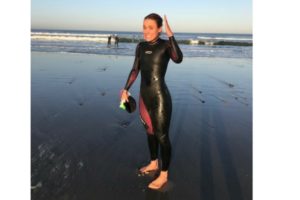 It is event rarer that there is a fatal encounter with a shark.  Sadly, yesterday's encounter happened one week shy of the 10 years anniversary of one of the Tri Club's swimmers, at Fletcher Cove.  It happened 10 years ago on 4/25/08.
While this was a sad, tragic and very rare event.  It is important to be reminded that…"It's not any more dangerous than it was yesterday or the week before," Burgess said (in the NBC news article from 10 years ago). "The reality is when you enter the sea it's a wilderness experience. There are animals out there that can and do occasionally do harm to us." http://www.nbcnews.com/id/24313314/ns/us_news-life/t/swim-was-regular-outing-shark-bite-victim/
Although I did not meet Dave Martin, as the 10-year anniversary approaches, I dedicate my Freedom Swim to him and the idea of having freedom from irrational fear. RIP.