Cold Water
When I swim from Robben Island to Cape Town next March, I anticipate that I'll be swimming in cold water in the mid-50 degrees Fahrenheit range, for a long time (maybe 3 hours or longer). So, getting through the water faster will be an imperative to avoid hypothermia. I have already experienced moderate hypothermia, and I can tell you – it was not fun. See my blog posting about Hypothermia on my first big training swim.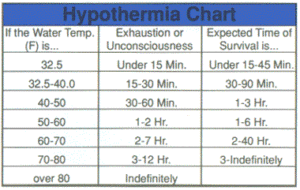 Cold Sweat
Motivated by this fear, I found out about a swimming approach called Total Immersion that sounded promising. The program is based on an understanding of the fact that water is about 800 times denser than air, so slipping through the water in a streamlined fashion with as little resistance as possible is more important than propulsion (i.e., kicking and stoking aggressively).
TI is it
My friend Joel Dorfan, who introduced me to the TI method, told me that there was a two two-day workshop coming up and suggested I try it. In desperation, I signed up and started to watch the many videos, mostly featuring founder Terry Laughlin demonstrating the technique. It made sense to me.
Learning to swim Efficiently
The workshop took place at an Aquatic Center in Coronado on October 10th and 11th. There were about 8 students and Coach Dave Cameron. Dave is a very seasoned swimmer and coach.
We spend about half the time in class learning about the TI method and the other half in the pool practicing skills. Dave also videotaped the swimmers, both above and below the water.
No – you don't look silly
Land practice of the TI technique…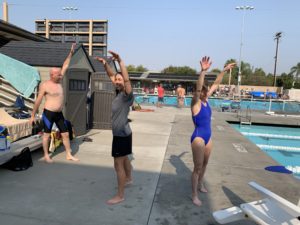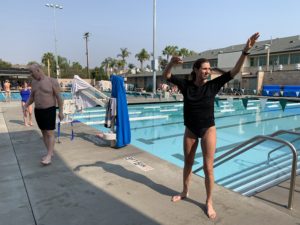 There was even a session of the swimmers doing land practice. Which I admit looked a little strange. In fact, one of the other coaches walking by said "No, You Don't Look Silly" in a very sarcastic tone.  The technique may look a little strange on land, but in the water it is a thing of beauty.
10% more efficient
After returning to the pool a day after the training, I was happily surprised that my base time for 100 yards dropped from one minute fifty seconds to one minute thirty-nine seconds. The proof is in the pudding – it works.
Now, it is a matter of practicing and mastering each aspect to the method.
Wish me good luck!