According to the Cape Long Distance Swimming Association (CLDSA), the Robben Island crossing is held to the same rules and standards that govern English Channel attempts.
This means that swimmers are permitted to wear a swim suit, goggles and a single swim cap. No wet suits, neoprene caps, or double swimsuits are allowed.  It is man (or woman) against the elements.
The RI crossing is internationally rated as a difficult open water sea swim and viewed as a training swim for the English Channel. The first sentence on the CLDSA website issue the following warning:
"Don't be lured into thinking that a Robben Island Crossing is an easy feat. Theodore Yach's hundred-odd swims can easily lead one to believe the swim is a "walk in the park". It is exactly the opposite!"
Distance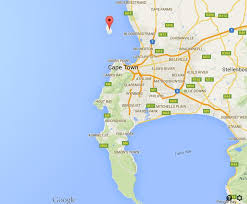 Swimmers who attempt the RI crossing typically swim from RI to either Blouberg Beach, also known as Big Bay beach (about 7.5km or 4.5 miles), or Three Anchor Bay (about 11.5km or 7 miles).  I will know closer to my swim if I have earned the right to attempt the longer distance. It will depend on my training and conditions when I'm in Cape Town.  For more information about the Cape Long Distance Swimming Association, here's a link to their website: http://www.cldsa.co.za/swims_and_routes/robben-island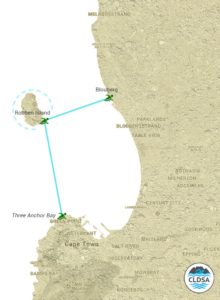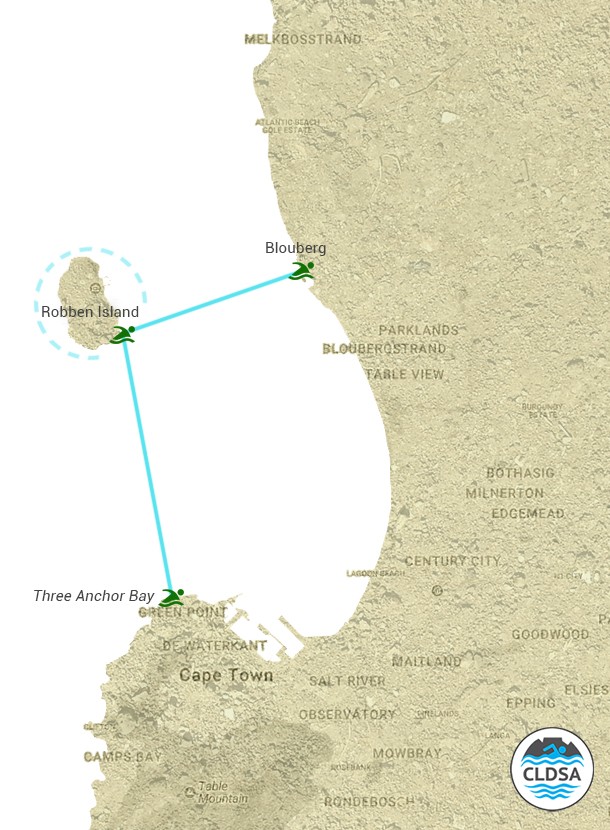 Temperature
During the summer (January – March), the water temperature near Robben Island can reach 14-16C (57-61F). I'm hoping that this will be the case when I attempt my swim in early March. The Antarctic is the source of the cold Atlantic current that reaches the coast of Southern Africa. Brrrr!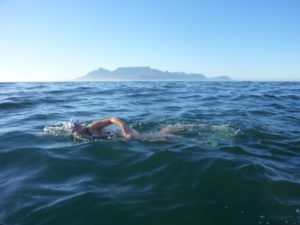 You can get an idea of the variable weather conditions.  I took this video during the summer when the southeasterly winds were blowing.  Not a good day for a swim.
Historical significance
Robben Island was the place Nelson Mandela was held for 18 or his 27 years as a political prisoner.  Today it is a museum with former prisoners often leading tours.  It is sobering to see the conditions that the prisoners endured a the small windswept isle in Table Bay. It is now a World Heritage Site.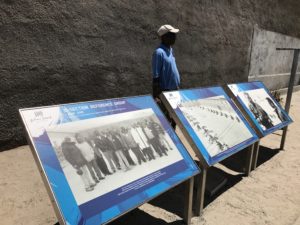 For the Record: Henry Hooper was the first person to swim from Robben Island to the Old Cape Town harbor in 1909.  It took him 7 hours to complete his historic swim.
Personal Significance
Despite leaving Cape Town 40 years ago and arriving to my adopted home in San Diego, I still have roots in South Africa, with a number of family members and good friends living there.
When I arrived as a teenage exchange student to Iowa 1978, I was "adopted" by Dorothy and Saul Roth.  They became a surrogate family to me. To this day, I feel close to them (of blessed memory) and their daughters Yolanda Moyer and Lydia Roth Laube and their families.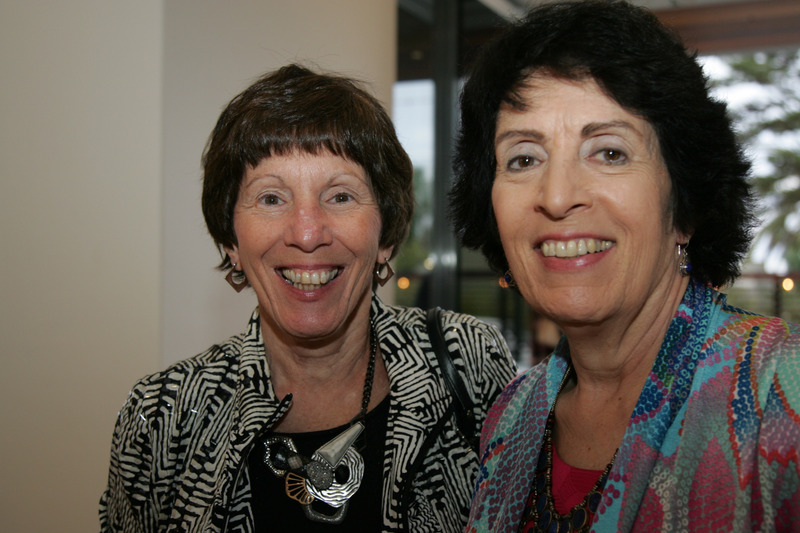 Here's the story:  As children growing up in Cape Town, my mother, Ada Leiserowitz and Dorothy, whose maiden name was Yach, were good friends. Dorothy met Saul during World War II.  It was customary for Capetonians to visit the harbor to greet US Army/AirCorpmen on their way to the India/China/Burma theater of war.  Saul was invited to the Yach's for a home cooked meal.
As fate and romance would have it, Dorothy and Saul fell in love and corresponded during the war years.  After the war, Dorothy traveled to the US and married Saul. They settle in Allentown, Pennsylvania.  Thirty years later, I attended Muhlenberg College in Allentown, where I was made to feel that their home was my home.
The reason I mention this bit of genealogy is because Theodore Yach's father, Solly and Dorothy, were brother and sister.
I have known about Theodore's swimming accomplishments for many years, but only met him on a recent trip to Cape Town with my wife Jeanie.  In addition to over 100 successful Robben Island swims, he also successfully  crossed the the English Channel.  With movie star good looks and a thick South African accent, he not only embodies the spirit and good will of an open water swimming ambassador, but he is a wonderful guy. He is a caring and kind family man and successful businessman.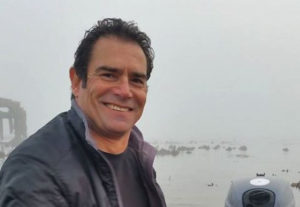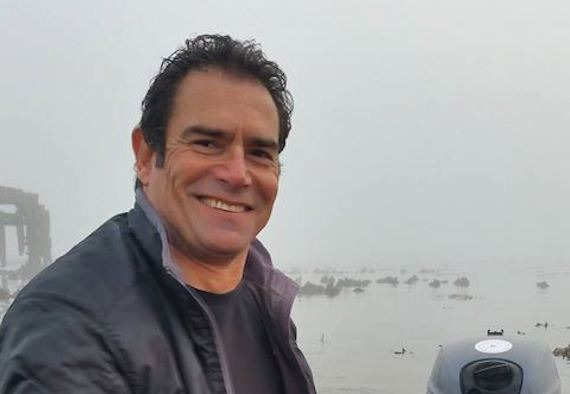 In My Element
When I met Theo, he generously gave me a copy of his autobiographical coffee table book called In My Element. In words and photographs he chronicles his training, preparation for his epic long-distance swims.  You can buy a Kindle edition of the book on Amazon.
If you would like to buy a hard copy of Theo's book, you can contact him on FaceBook.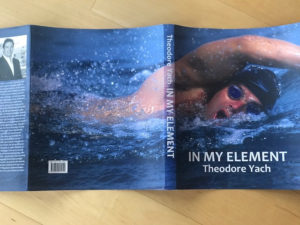 Family
During the same trip, Jeanie and I looked up my relatives in Cape Town. When I shared my goal with my cousin Ruthie Chaitman at a family gathering, she immediately and proudly told me that her son, Wayne, is an accomplished swimmer. Wayne has successfully completed the Robben Island swim, the English Channel and many other extreme swims.
My mother and Ruthie's father, Michael were brother and sister.  Sadly, both of whom recently passed and are of blessed memory.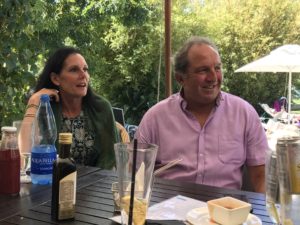 Wayne has a goal of swimming across False Bay. The distance is similar to the English Channel, approximately 36 kms or 23 miles. To Accomplish the feat, he will have to confront several hazards including: Strong and dangerous currents, unpredictable southwesterly winds and the marine life in the Bay. (Much of SharkWeek footage is filmed in False Bay).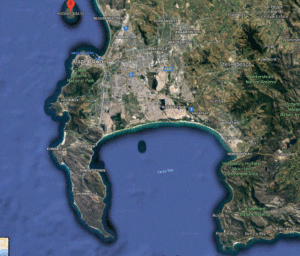 As time draws closer, Wayne has offered to help me register for my Robben Island swim and introduce me to a pilot to escort me by boat.
Many thanks Theo and Wayne for their inspiration, support and guidance.