SoCal Volunteer Conference for NPF
On Saturday September 15th, 2018, a group of volunteers, coordinators, pharma sponsors and health care professionals got together for the inaugural National Psoriasis Foundation Regional Volunteer Conference in Costa Mesa.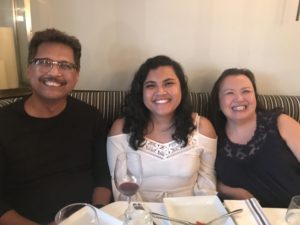 Ortego Family
Dinner on Balboa Island
On Friday evening a few volunteers/patients of psoriatic disease were invited for a get-to-know-each dinner at a restaurant on Balboa Island. It was to meet others and their families, who have raised over a $1,000 for NPF. Following dinner, we sampled the frozen chocolate covered frozen bananas on a stick.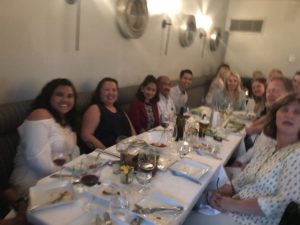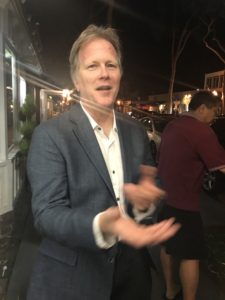 Matthew Kiselica
Action packed agenda
The day-long conference started early in the morning on Saturday for breakfast. Kris Bochmier and Corene Petit, NPF staff and the logistics organizers were there to greet attended, who received their credentials and information about the conference.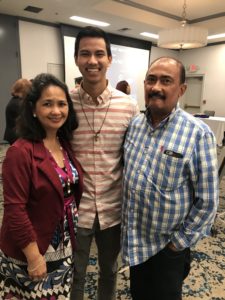 Christian and his parents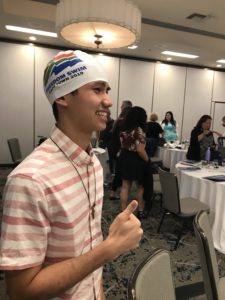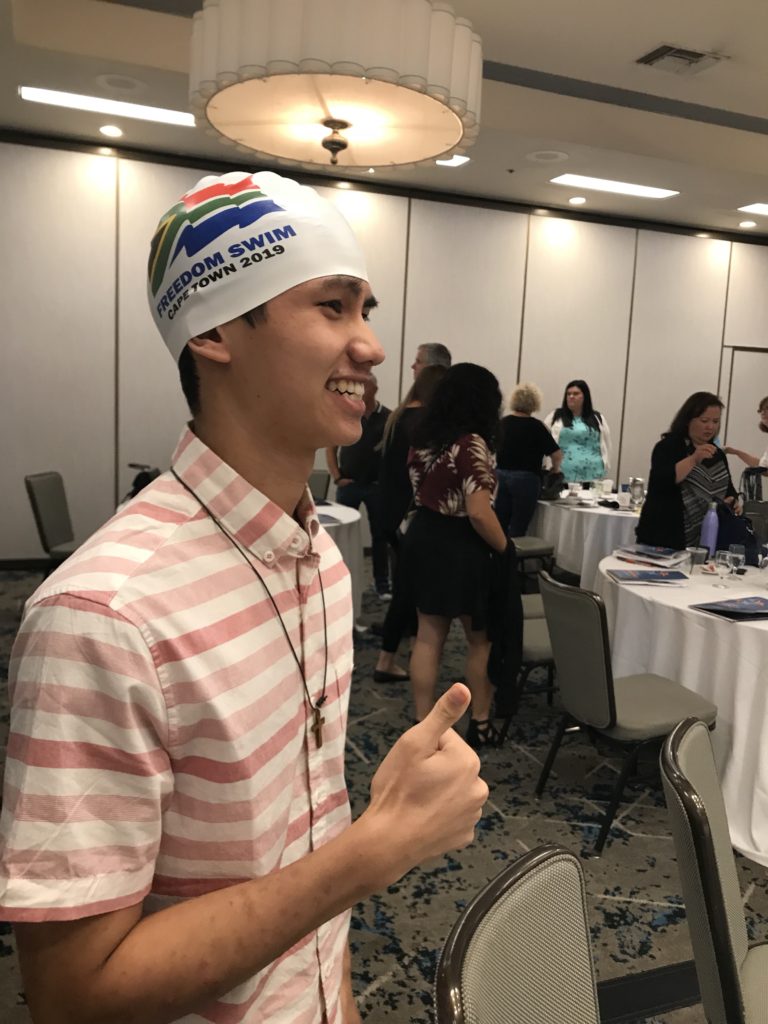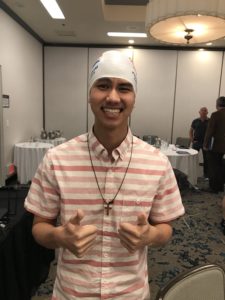 Christian Supporting my Swim wearing a Freedom Swim cap
A Warm Welcome
Mark Oberman from the San Diego Division and a current Board Member of NPF welcomed attendees and introduced Randy Beranek, President and CEO of National Psoriasis Foundation.
Latest Treatment Information
Paul Yamauchi, MD PhD, a renowned dermatologist from Santa Monica was the guest speaker for Treatment Targets. He gave the attendees an overview of the current treatments available to those with psoriatic disease. It was an excellent presentation with many questions asked and answered.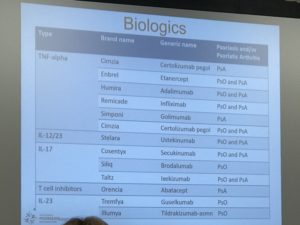 Amplify our Voices
The conference then turned to offering ideas on how patients can learn how to amplify their voice to connect with others about be advocates for the NPF.
Julia Robinson Shimizu, the Director of Pubic Relations form Barlow Respiratory Hospital Foundation gave a presentation teaching participant how to tell their story and over coming fear. She encouraged participants to get up and their sporty in from of the group. Several did.
When she mentioned that she was a swimming, it gave me the opportunity to tell my story about my Robben Island swim in March 2019. I brought several swim caps to give to people who donate to my campaign. I gave her one and she mad e a donation. Thank you, Julia!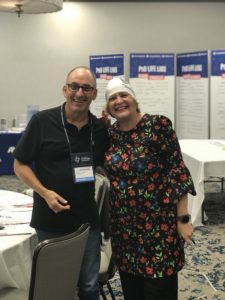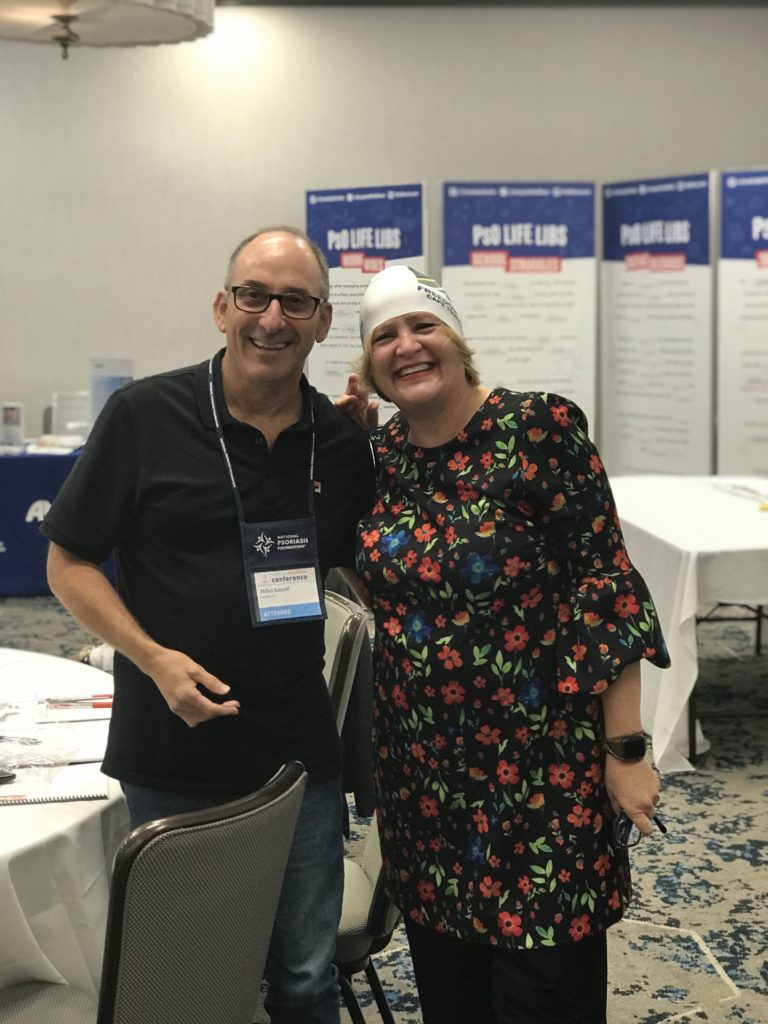 Julia Robinson Shimizu made a donation to my Freedom Swim DIY campaign and wore her swim cap.
Jennifer McMillon and Natasch Martin front e Pancreatic Cancer Action Network shared how their organization helps connect the dots between listening to people and helping them.
One quote I remember from that was attributed to Donna Brazil during their presentation: "It takes but one person, one moment, with one conviction to start a ripple of change".
Advocacy
Its not enough to amplify your voice but to advocate for patient's rights according to the final speaker Liz Helms, President and CEO of California Care Coalition and Founder of the Chronic Care Policy Alliance and Author of Healthcare Unhinged and The making of an Advocate.
Liz introduced to sisters, one of whom has Lupus. Juana Mara and Estella Mata-Caracoma stood up to the healthcare system when Juana was told her health plan did not cover Lupus. Together with Liz and her organization, they advocated the state of California for change. AB 2863 and AB 315 were introduced laws were change.
It was a demonstration of how "Many Voices Come Together, When One Stand Up". See: MyPatientsRights.org to see the result of the law change.
Conclusion – More Connecting
After the conference ended, we were invited to for drinks and appetizers and to connect one more time, before the conference came to an end.
I learned a lot about myself at the conference and am grateful to NPF for inviting me.